Which Pipe Bending Method is Simplest?
Pipe or tube bending are widely used in the following application:
ㆍOil and Gas Pipeline
ㆍChemical raw material transfer pipeline
ㆍElectric Power Line
ㆍConstruction & Sculpture
ㆍHighway Sign
ㆍHot Water Pipe
There are many methods to realize pipe bending, such as coreless bending, cored bending, heating bending, numerical control bending, and other special bending methods. Each different bending method has a unique process and conditions, and can also solve a certain bending quality problem. Coreless bending is divided into compression bending, draw bending, roll bending, and rotary bending; cored bending is divided into mandrel bending, solid particle filling bending, liquid filling bending, etc.
Which pipe bending method is the simplest among these methods? The coreless Compression Bending is the simplest method.
Compression Bending is similar to draw bending and is the bending of pipes achieved by the combined action of additional or derived axial push force and bending moment.
The additional axial force can reduce or counteract the effect of the tangential pulling force on the convex side of the bend so that the wall thickness of the bend can be suppressed from thinning or cracking, but at the same time, the tangential compressive stress on the concave side of the bend can be increased, and the wall can be increased to wrinkled.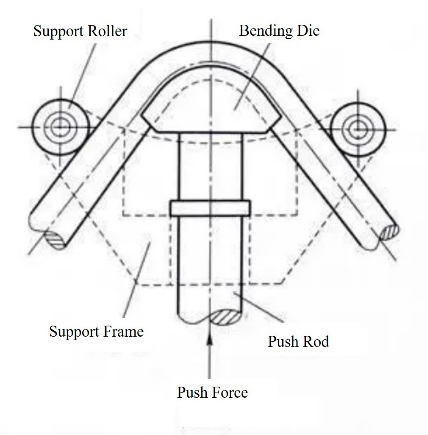 Today, the most commonly used today is coreless bending with Induction Heating.
Induction Pipe Bending is a type of metal forming that bends tubes by localized heating using a high or medium-frequency induction power supply. Therefore, Induction Pipe Bending Machine is a kind of metal forming equipment, not only suitable for round pipes/tubes but also for rectangular/square pipes and I-beams.
Benefits of Induction Pipe Bending
ㆍPipe heated uniformly by Induction Heating Machine brings Good Quality of bent pipe: very less Distortion, very less Wall Reduction and good Ovality.
ㆍPipe heated fast by Induction Heating brings High Efficiency, Low operating cost, and Low Energy Consumption.
ㆍWith induction Heating pipes and beams in different materials such as Carbon & Alloy steel, Stainless steel can be bent.
ㆍPrecise temperature control to maintain a constant heating temperature during bending.
ㆍBending of Square tube, Rectangular tube, Angle steel, and I-beam
ㆍWith induction heating, Seamless pipe & Welded pipe can be bent.
ㆍEasy to operate with friendly HMI of Siemens PLC and Touch Panel
ㆍEnvironmental protection and energy saving